Mabel Emergency Services
Each and every one of these members deserve praise and credit for their heroic efforts each and every day!
Mabel Fire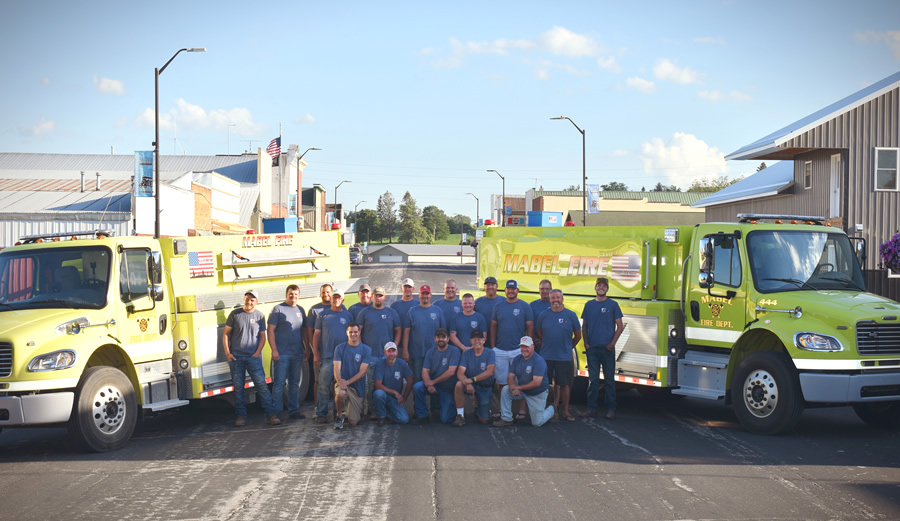 Left to right, FRONT: Cory Wilson, Trever Falck, Adam Olson, Orel Tollefson, and Robert Schutte. MIDDLE: Chief Steve Geving, Bailey Vickerman, Jason Vickerman, Rick Aske, Levi Spalla, and Paul Tollefsrud. BACK: Derek Stortz, Ryly Patterson, Adam Wilder, Brian Erickson, Adam Tollefson, Tim Mengis, Jeff Rein, Kelly Sand, and Alex Mengis.
Fire Chief Steve Geving runs the 20 volunteer Mabel Fire Department with great precision. If you would like a fireman to come to your class or special event to give a presentation, just give City Hall a call at 493-5299 and we can leave a message for them.
Mabel Ambulance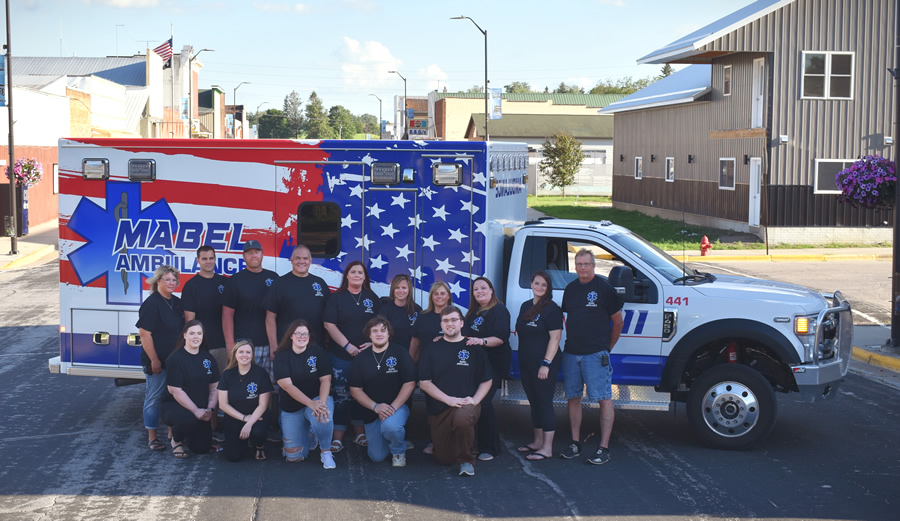 Left to right, FRONT: Haley Casterton, Bre Johnson, Kelly McClimon, Matt McClimon, and Travis Vatland BACK: Shelly Gerard, Cory Wilson, Jeff Rein, Tim Mengis, Sarah Mengis, Katie Hershberger, Julie Otterness, Jeanette Paul, Susan McClimon and Kelly Sand. Not pictured: Carl Westby, Ashley Rein, Jason Marquardt and Sheri Marquardt.
We are committed to serving the people of the Mabel community and the surrounding areas with quality care and compassion. Our director, Sarah Mengis, has a very dedicated group of volunteer members. We would like to thank the Mabel Ambulance Service for being one of the best services in the area!
Police
The City of Mabel contracts with Fillmore County for police protection.
911 for any emergency at anytime
507-493-5444 for a non-emergency